C-Roads Italy

Description
The main goal of the C-Roads Italy project is to implement and test, in real traffic conditions, cooperative systems based on V2X technologies, for the following automated driving applications:
truck Platooning
passenger cars Highway Chauffeur
combined scenarios of trucks and passenger cars.
That implies the infrastructure upgrade and the integration of V2I C-ITS service and V2V information with vehicle control strategies. C- Roads Italy planned to pilot a set of "Day1" and "Day1,5" C-ITS services as recommended by the EC C-ITS Platform.
The expected impact to be demonstrated is mostly on mobility, considered in terms of:
Safety – to demonstrate the reduction of risk related to cooperative/automated technology in truck and passenger cars scenarios, and also in combined scenarios
Traffic fluidity – to show the potential for efficient use of the infrastructure with Platooning technology and Highway Chauffeur technology
Energy efficiency – to measure in real life conditions the potential for fuel consumption and related emission reduction.
The Italian implementing bodies (Road concessionaires, OEMs, telecom operator, research centre, etc…) will invest in their infrastructure and the industry will use that pilot test infrastructure to test components and services.
All Italian implementing bodies, according to their technical expertise, will be involved in the different WGs and Task Forces established by the C-Roads Platform; reporting about the status of national pilots, contributing to the harmonization of the different technical issues that will be discussed within the C-Roads Platform.
The results and lessons learned from C- Roads Italy will be fully shared across Europe through the cooperation in the C-Roads Platform.
Location Description
Three Italian motorway operators are involved with their respective operational infrastructure:
Brenner motorway (A22 - 313km)
Autovie Venete motorway (A4 - 19km and A28 - 5km)
CAV motorway (A57 - 7km)
Beneficiaries
The Beneficiary (Member State) and the Coordinator is the Ministero delle Infrastrutture e dei Trasporti.
Implementing Bodies
Please see this image for an illustrated display of the implementing bodies and their clustering.
Autostrada del Brennero S.p.A
Autovie Venete S.p.A.
Azcom Technology S.r.l.
CAV Concessioni Autostradali Venete S.p.A.
Centro Ricerche FIAT S.C.p.A.
Codognotto Italia S.p.A.
Iveco S.p.A.
Ministero dell'Interno – Dipartimento della pubblica Sicurezza – Servizio Polizia Stradale
North

Italy

Communications S.r.l.
Politecnico di Milano – Dipartimento di Design
Telecom Italia S.p.A.
Schedule
The C- Roads Italy Pilot started by 08/02/2017 and will end by 31/12/2020
by 28/02/2018: Platooning vehicles obtained - DONE
by 30/03/2018: Call for tender to equip 20 km of Brenner motorway with V2X technology - DONE
by 31/05/2018: V2X Plug test - DONE
by 30/06/2018: Data interface between C-Roads and Highway Chaffeur vehicle specified - DONE
by 30/09/2018: Test infrastructure operational - Chauffeur - DONE
by 30/09/2018: Platooning Use Cases Investigation, Technology requirement and Selection Report - DONE
by 30/09/2018: Chauffeur Use Cases Investigation, Technology requirement and Selection Report - DONE
by 30/09/2018: Lab tests on Highway Chaffeur vehicle components started - DONE
by 31/12/2018: First test vehicles equipped and operational - Chauffeur - DONE
by 30/06/2019: First test vehicles equipped and operational - Platooning - DONE
Key Performance Indicators
The Brenner Motorway have completed the mapping and design of the RSUs to install along the Brenner Motorway and finalized the purchase process of all RSUs. Also the documentation for the tender to award the works aiming at preparing the infrastructure (electrification, cabling, etc.) for the extension of the existing V2X test site have been finalized. Moreover, the interfacing of the RSUs with the C-ITS server at the TCC and creating the web interface of the C-ITS server for infrastructure management, status map for RSU and Events and UCs simulation (independently from the TCC) have been completed.
by 30/09/2018: 30 km of continuous Brenner motorway stretch equipped with V2X technology - DONE
by 30/04/2019: 20 km of Brenner motorway equipped with V2X technology, from the Austrian border (km 0) to km 20 (rest area Trens East/West), ready for start testing phase - DONE
by 30/04/2019: 10 km of Autovie Venete motorway equipped with V2X technology, ready for start testing phase - DONE
by 31/10/2019: 10 km of CAV motorway equipped with V2X technology, ready for start testing phase - DONE
by 30/04/2020: Test infrastructure operational - Platooning - ONGOING
by 30/06/2020: Start cross border Chauffeur test with Austria - ONGOING
by 30/06/2020: Start cross border Platooning test with Austria - ONGOING
Map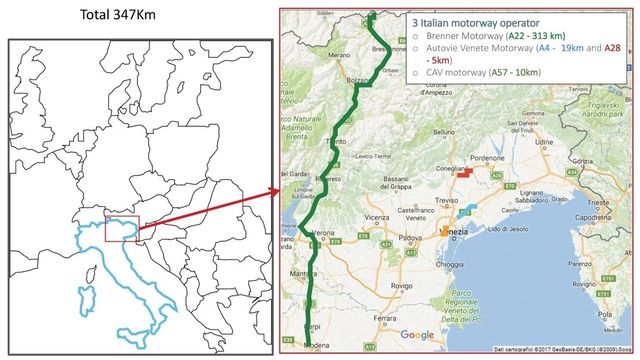 back
Share this article under the hashtag #cRoadsPlatform