Urban C-ITS Contest
The Urban C-ITS Contest aims to present and promote European cities' C-ITS deployment, highlighting the characterisation of their systems and architectures. Among other aspects, it shall take into consideration information related to the C-Roads documents released, communication plans, and stage of deployment. Furthermore, this event intends to analyse and understand the C-ITS situation point of European cities.
The starting point of the Urban C-ITS Contest will be on 2nd May (the date of the release of the "Call for Urban C-ITS Contest"). From then on, participants will have until July 17th to submit their C-ITS deployment description to the following e-mail address: joao.montenegro(at)armis.pt according to the rules established in the document named "Rules of Engagement". During this period, the Urban C-ITS Contest Committee will be available to support participants in finalising their applications, if needed. The awarded cities will be informed by the Evaluation Committee by September 15th.
The Contest awards cities that demonstrate the efficacy and versatility of their C-ITS deployments during the high-level "urban C-ITS award ceremony", which will take place in the city of Porto, Portugal, on October 20th, 2023. There, the city representatives will have the opportunity to take over the awards and present their C-ITS visions. The award ceremony will also provide opportunities to discuss together EU-wide urban C-ITS progress.
Registration and further information
Please find below the agenda planned for the high-level ceremony:
Urban C-ITS Contest – Award ceremony – October 20th

Time

Session title

Session description

9:00

10:00

Welcome and introduction

To provide a proper welcome and allow the participants to accommodate, an introductory session shall take place. The intention is to invite members from the European Commission, a representative from Polis, and the mayor of the city of Porto to participate during this session.

10:00

10:15

Coffee break

10:15

12:45

Awarding session

The awarded participants will have 10 minutes to talk about their C-ITS deployments

12:45

13:00

Final session

To finalise the event, a summary of its outcomes will be provided at this session.

13:00

14:00

Lunch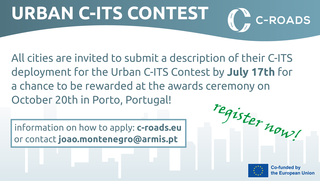 back
Share this article under the hashtag #cRoadsPlatform