C-ITS in Europe is reality today
With the successful C-ITS Roadshow #SafeRoadsTODAY in Brno on 4th of July 2021, the C-Roads Platform has comprehensively proven that C-ITS has arrived in the daily life of users and that there is much more to come. Under the banner of harmonised operation, the chairs of the C-Roads Working Groups and Task Forces explained the harmonisation efforts undertaken to ensure interoperable C-ITS deployments all across Europe. Together with strategic partners, such as the CAR 2 CAR Communication consortium, ASECAP, CEDR, EU EIP and the European Commission, next steps of C-ITS deployments was also discussed on an international level.
The positive impact of C-ITS was omnipresent during all sessions. C-ITS can undoubtedly reduce human errors, one of the greatest sources of accidents in transport, by providing direct driver support in the vehicle while also improving traffic efficiency and comfort. Together with connected vehicles, C-ITS roadside units build the basis for individual services to improve safety along European roads. Already today, C-ITS services show user the right information at the right time and also across borders. This was made possible because C-Roads succeeded in getting road infrastructure ready and cooperated with OEMs on broad scale. In total, all across Europe 20.000 km of roads are equipped with C-ITS services using short-range ITS-G5 communication and cellular long-range C-ITS services cover 100.000 km of roads. This was made possible through European funding programmes that have already provided over € 500 million of EU funding to ITS projects, matching investments of more than € 1.3 billion.
Another issue discussed during the conference, was the work on organisational issues of C-ITS in general and pilot-specific context. These include business models, the legal framework and standards development as well as the unification of HMI, resulting in a C ITS operations strategic document on European level. Persistently important topics in the future of C-ITS deployment are the evaluation of the impact of C-ITS services as well as the genesis of the harmonised communication profile of C-Roads was also a big topic. Particular focus has been and will be on security for C-ITS services and communication processes, supported by a dedicated EU Policy on C-ITS Security (C-ITS Trust Model Architecture). With the versions progressing, an increasing number of urban use cases have found their way into the profile releases. New releases are always available for free through the C-Roads Platform website.
Much has been achieved in the past five years and before, yet this is merely an intermediate stop for C-ITS and much more is to come. With a starting point of more than 500,000 equipped vehicles on the road, vehicle manufacturers' initial efforts of serial vehicle equipment C-ITS will be continued. In addition, infrastructures all over Europe are getting comprehensively fit for C-ITS operation. From the side of the European Commission, it was emphasised that C-ITS needs interoperability, trust and scale. Investment levels are high and will not happen without a coordinated approach and investment certainty. Therefore, an efficient link between development and deployment activities is needed. Increased agreement and sharing of data between private and public stakeholders are expected to support investments on both sides. The C-Roads Platform was an important trigger in many fields and will continue to take its strategic and technical role in the process of C-ITS roll-out with European coordination and the upcoming releases of the harmonised communication profile. For more information, consult the official C-Roads brochure!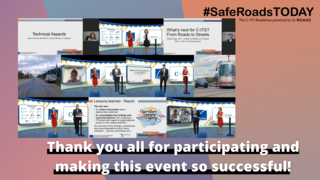 back
Share this article under the hashtag #cRoadsPlatform