Registration is open!
As of today, the registration to #SafeRoadsTODAY - The C-ITS Roadshow powered by C-Roads is officially open! The #SafeRoadsTODAY event will be free of charge, however registration will be required through the official registration tool of our partner event URBIS Smart City Fair.
As a special service by our partners of URBIS, you can use the code saferoadstoday which will grant you free access to the #SafeRoadsTODAY event.
Please note that this code will give you access only to the #SafeRoadsTODAY event and those parts of URBIS that are free to visit (i.e. the virtual exhibition). The conference sessions of URBIS Smart City Fair are NOT included, however they will be of major quality and added value for a very reasonable price. So please consider booking the full event and enjoying the whole programme!
The programme of #SafeRoadsTODAY is currently getting its final touches and will be published in its entirety soon, so make sure you check the website regularly and follow us on Twitter (@cRoadsPlatform).
To get a brief idea what to expect and what progress was made during the past five years, we have compiled a video that shows the implementation of C-ITS services throughout all pilot environments, watch it here.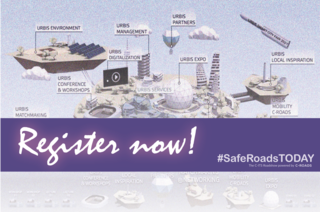 back
Share this article under the hashtag #cRoadsPlatform