#SafeRoadsTODAY – the C-ITS Roadshow of the C-Roads Platform
It has been five years since 2016, when a group of European road authorities and road operators have committed themselves to transform motorways and urban roads from mere pavement into an actively supporting element of road safety: The C-Roads Platform was born. The aim was to make use of all the development work in the field of cooperative systems (C-ITS) up to this point and bring it into live operation in the course of all-European harmonised roll-out activities. The twofold platform approach left enough freedom and flexibility to country-specific needs and preconditions (national pilots) yet coordinated and harmonised all the national efforts within the overarching C-Roads Platform.
Five years and several extensions later (currently 18 European States are participating as active core members), C-ITS services have been harmonised to support drivers all across Europe. After years of hard work and a close cooperation with vehicle manufacturers and service providers, these services are available for the benefit of European drivers. So as of 2021, a state of deployment has been reached where there is no need to hide, but to broadly present the results to a wide professional audience.
Under the name of #SafeRoadsTODAY, the C-Roads Platform proudly presents its very own roadshow event in close cooperation with the URBIS Smart City Fair, showcasing that C-ITS has become reality and has tangible impact on road safety.
SAFETY is the driver for road operators to invest in C-ITS service provision. As much as vehicles and information services rely on high-tech, this also applies to today's roads. Modern infrastructure design goes way beyond paving and marking, it rather includes the intelligent placement of roadside sensors and services for travellers in order to improve safety.
ROADS all across Europe have been equipped with intelligent infrastructure to support the European traveller. Starting with hot spots along motorways and cities the upcoming years will be focused on the improvement of coverage and service quality. All across Europe, road operators are not only ready to take this step, but also show how they are doing it and what benefits road users can expect.
TODAY C-ITS is real, reliable and available. It marks the beginning of a new era of road intelligence to make European roads safer. The C-Roads Platform members will provide a hands-on demonstration of next-level road intelligence to the public.
"While the C-ITS Roadshow was initially planned for September last year, it was postponed for obvious reasons. All the more, the whole C-Roads Platform is now ready and eager to finally showcase that C-ITS is no longer an abstract concept, but has already found its way onto the roads, into our cars and is used in operative processes in traffic management. Thanks to the European harmonisation efforts, we are now able to present a large-scale uniform approach that connects seamlessly throughout Europe and beyond", says Martin Böhm, General Secretary of the C-Roads Platform about the event.
On 4 June 2021, the city of Brno will host the #SafeRoadsTODAY event, together with the URBIS Smart City Fair (www.bvv.cz/en/urbis). Participants will learn everything about how roads communicate with cars, integrate with information services and how it all comes together as operative C-ITS services.
Check the website regularly to stay updated and follow @cRoadsPlatform on Twitter!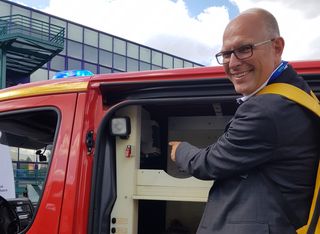 back
Share this article under the hashtag #cRoadsPlatform