Thank you for a successful #SafeRoadsTODAY event
Despite facing a set of constantly changing variables and many organisational uncertainties, the C-ITS Roadshow can be considered a great success. Thanks to the contribution of our speakers, the organisation team of our partner event URBIS Smart City Fair, as well as the Chair and Secretary General of the C-Roads Platform – Christel Fiorina and Martin Böhm – it was possible to achieve incredible coverage: Not less than 57 journalists and 1.700 unique participants from 40 countries. All participants became aware of the status of European C-ITS deployment all across Europe by following virtual sessions, visiting virtual stands of all C-Roads countries or by participating at the promotion tours.
Special gratitude especially goes to our high-level speakers of the press conference and the opening session, who underpinned that C-ITS has touched the ground of daily operation and has tangible benefits for road safety. Due to the restrictions in physical life, those were shown to the participants in several videos and also talks and discussions.
Additional to the online conference programme the city of Brno features a well-equipped cooperative infrastructure. Markéta Vaňková, Mayor of Brno and Mr Jan Sechter, Deputy Minister of Transport of the Czech Republic together with a small group of experts took the chance to witness C-ITS services live in promotion drives in Brno. Available already today, fire trucks use C-ITS to communicate to other vehicles to form an emergency corridor and also get emergency vehicle priority at intersections to ensure a smoothly running rescue chain. Public transport vehicles communicate with cars at critical intersections or stops with poor visibility. They also receive public transport priority at traffic lights, thereby increasing road safety and the efficiency of sustainable transport.
Recorded parts of the conference can be re-watched here. Also, do not miss the opportunity to scroll through the floorplan to get hold of additional information. In any case, stay updated with the official C-Roads Platform Twitter account (@cRoadsPlatform)!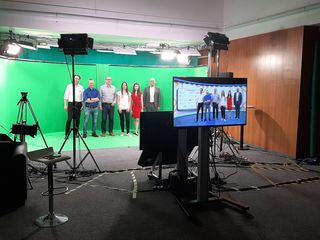 back
Share this article under the hashtag #cRoadsPlatform