C-Roads Austria (Vienna)

Description
The Austrian capital city Vienna is characterised by intense traffic flows on a daily commuter basis, especially across the city motorway A23 as well as A22, A4 and S1. These four high-level roads are connected to the city of Vienna at several neuralgic nodes and intersections and were in the focus of the first pilot phase of C-Roads.
In order to move forward on this basis, the pilot site Vienna will consist of the road system describe above which is well connected to the already established C-ITS test infrastructure in Vienna called the "ECo-AT Living Lab".
The pilot site in Vienna focuses on urban use cases. This includes the signalized intersections (SI) with e.g. green light optimal speed advisory (SI-GLOSA), signal phase and timing information (SI-SPTI), traffic light priorisation (SI-TLP) as well as the hazardous locations notification (HLN) with e.g. emergency vehicle approaching (HLN-EVA), weather condition warning (HLN-WCW) and working zone warning. For the implementation of the urban use cases in combination with the public transport, the Vienna City Administration work in close cooperation with the public transport provider Wiener Linien.
In order to be able to implement C-ITS in the proposed area and with focus on the proposed use cases, the infrastructure of the affected traffic signalling system will be modernized. This includes the installation of Road Side Units (RSUs) along these corridors as well as the installation of On-Board-Units (OBUs) in tramwaysoperated by Wiener Linien. The technology of choice for the communication between the Road Side Units (RSUs) and the traffic participants will be short-range communication, ensuring both flexibility and reliability.
The deployment phase in Vienna started in June 2020 with the installation of the first RSU which will be followed by further RSUs from various suppliers in the upcoming months. Additionally, Wiener Linien will install OBUs in some of their tramways from March 2021 onwards. Based on a broad testing phase, Vienna City Administration wants to gain knowledge in order to be able to decide on a broad rollout.
The primary goal of the City of Vienna is to maintain and further develop the high quality of life. In accordance with the transport policy objectives, intelligent and connected transport systems, as considered in C-Roads, must follow the goals of the Smart City Vienna Framework Strategy, the Sustainable Urban Mobility Plan and the city's Digital Agenda.
Location Description
The test site will consist of the one way road system on the left and the right bank of the Donaukanal from the motorway intersection A23 / A4 (Knoten Prater) to the city center, the connection from motorway exit Knoten Landstraße (A23) to the city center via Landstraßer Gürtel and Prinz-Eugen-Straße as well as the Ringstraße around the historic city center.
Total length of appr. 17 km urban road sections
70 traffic lights (potential locations for the installation of RSUs)
Schedule
March 2020: Upgrade Sitraffic Scala traffic computer to version 8.0, supplemented by the C-ITS module
Starting June 2020: Planning of RSU locations for first deployment phase
Starting June 2020: Installation of Road Side Units from different suppliers
Starting April 2020: Installation of On Board Units from different suppliers
Starting July 2020: Testing on pilot site
2021 onwards: Decision on broad roll out (second phase), followed by tendering, contracting and purchase
Map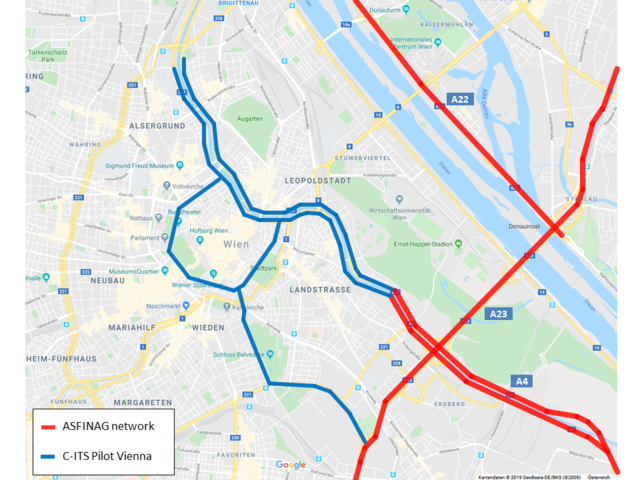 back
Share this article under the hashtag #cRoadsPlatform