C-Roads Belgium / Flanders

Description
At the test site existing cellular based 3G-4G/LTE mobile communication networks was used in combination with the HERE Location Cloud and the local Traffic Management Centre which allowed a group of approximately 650 test drivers to receive and potentially update selected Safety Related Traffic Information (SRTI) using low latency data exchange, in line with the European Commission Delegated Regulation 886/2013.
The following Use cases were developed:
Stationary Vehicle
Accident Area
Obstacle on the road
Road Works
Slow Moving Vehicle
Slippery Road
Traffic Jam Ahead
Shockwave Damping
Reduced Visibility
Extreme Weather Condition
In-Vehicle Signage
The main objective of the C-Roads Flemish pilot was to operate and assess the deployment of a cloud based 'virtual infrastructure' for the effective deployment of C- ITS services connecting road users with the Traffic Management Centre (TMC) while allowing the TMC to directly interact with the end users.
Location Description
C-ITS services will be provided on all motorways part of the core network in Flanders – including E17/ E19, E34 and E40 that are part of TEN-T corridors. Emphasis however will be given to the area around Antwerp and the motorways connecting Antwerp with the Netherlands: R001, E19, E34 (all core) and E313 (comprehensive), whereas the main Flemish test area will concentrate on the (common) E34 – E313 segment East of Antwerp. As such motorways E34 (Antwerp – Eindhoven) and E313 (Antwerp – Liège) will be targeted for detailed evaluation purposes (cfr: a subset of the driver population will be subject to an in-depth survey). Motorway E313 carries significant freight flows from and to the industrial Ruhr area (Germany) and suffers severe congestion & frequent accidents justifying the extended 'targeted evaluation area' as proposed.
Schedule
Q1-2019: 11 use cases were developed and ready for testing.
Q3-2019: start of pilot with limited users, delay problems detected.
Q1-2020: System ready for full range pilot.
Q4-2020: End of pilot with 650 users having tested the app.
Q2-2021: Evaluation report expected.
Key Performance Indicators
The evaluation plan will describe the services to be evaluated, the Key Performance Indicators (KPI) that will be used for evaluation and the methodology to measure these KPI's. In order to compare evaluation results of the various C-Roads test sites, KPI's and the overall methodology is to be timely discussed and concluded in the C-Roads platform Evaluation Working Group.
A dedicated 'pilot' evaluation plan will be drafted in parallel with the detailed design of the pilot operations.
Map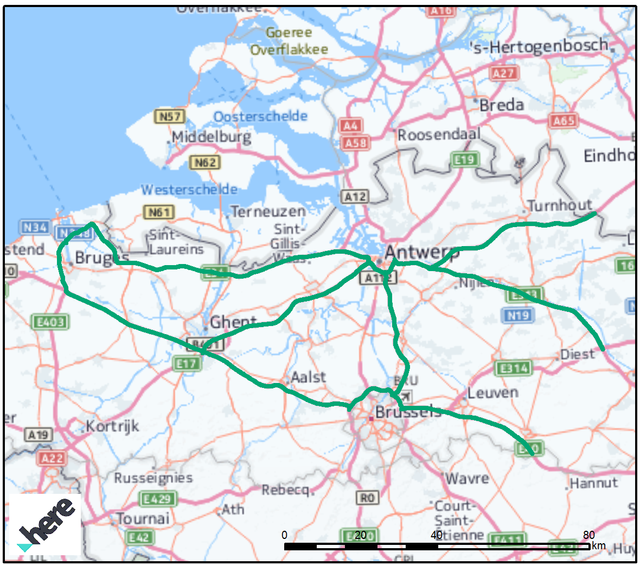 back
Share this article under the hashtag #cRoadsPlatform