C-Roads Czech Republic

Description
C-Roads Czech Republic aims to deploy cooperative systems (C-ITS) in compliance with relevant standards in order to achieve an interoperable system on European level providing harmonised services to its users (drivers, authorities, etc.), regardless the technology used within the vehicles.
The significant goal of C-Roas Czech Republic is to verify coexistence, reliability, security and functioning of the mutual linking between communication technologies ITS-G5 and LTE-V called as hybrid cooperative system, which mainly reduces deployment costs and increases reliability of the system. Considerable effort will be devoted to the security of the hybrid communication which is paramount of importance.
An unique pilot site within C-Roads Czech Republic is focused on verification of C-ITS use cases for railway crossing safety enhancement. The aim is to recognize possibilities how to prevent collisions of trains with road vehicles by using C-ITS services.
Achievements of the pilot project are expected to be demonstrated by field tests recorded and assessed according to developed procedures which will be provided to future deployment sites in the Czech Republic as well as to other Member States, in order to achieve an interoperable cooperative system harmonised on the European level.
Location Description
The Czech C-Roads pilot sites are located on the Rhine-Danube Core Network Corridor in the section München/Nürnberg – Praha, on the Orient-East Med Core Network Corridor in the section Praha – Brno, and on the urban nodes Plzen, Brno and Ostrava. Plzen and Ostrava are situated on the Rhine-Danube Core Network Corridor. Ostrava and Brno are situated on the Baltic-Adriatic Core Network Corridor. It is anticipated to deploy cooperative system on more than 200 km of Core Network Corridors and connected municipalities motorways (Brno, Plzen).
Schedule
2016 – 2017 – development of security mechanism, technical and functional specification according to current standards, public procurement of the C-ITS pilot deployment.
2018 – 2019 – deployment of C-ITS, development of procedure for assessment of reliability and safety
2019 – 2020 – assessment of deployed C-ITS according to developed procedures in order to find out reliability and safety issues
Map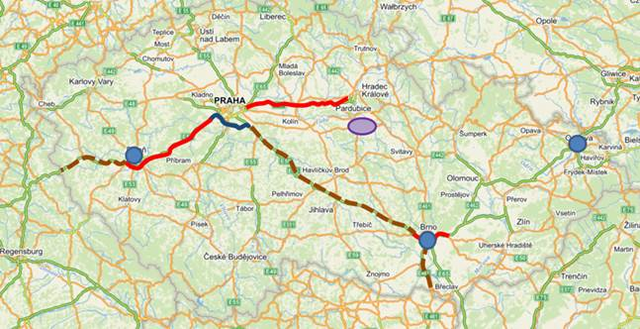 Pilot sites of the Czech Republic
back
Share this article under the hashtag #cRoadsPlatform