C-Road contribution – Finland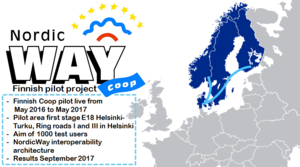 Finland will provide experiences, expectations and requirements from the joint Nordic CEF funded NordicWay cellular/hybrid C-ITS project (www.nordicway.net), Finnish Coop pilot in the NordicWay (www.infotripla.fi/coop) and possible successor deployment projects for the C-Roads platform. Implicit and explicit knowledge will be shared and feedback provided with other European authorities in C-ITS deployment.
NordicWay technical work on cellular 3G and 4G/LTE C-ITS Day 1 Safety Related Traffic Information (SRTI) architecture and interoperability input is provided together with the other NordicWay project partners, National Road Authorities of Sweden, Norway and Denmark as well as the OEMs and service providers involved. Evaluation and assessment includes technical performance, user acceptance and impact assessment on user behavior, tentative benefit/cost, business models and ecosystems for the service value chain.
Share this article under the hashtag #cRoadsPlatform