Ireland
Description
The overall aim of the C-Roads Ireland C-ITS pilot is to deploy, trial and evaluate Day-1 and future C-ITS services. The pilot will include development of services to align with Irish priorities, whilst recognising relevant standards and regulation. The pilot will test and evaluate C-ITS services on the Irish Roads Network, predominantly on the Irish TEN-T network and strategic routes to and within Dublin City. The pilot will consider how the wider Cooperative, Connected and Automated Mobility (CCAM) model supports C-ITS and wider CCAM considerations.
The objectives of the Irish C-Roads national pilot is as follows:
Deploy a national C-ITS pilot and understand the issues associated with developing, delivering and operating C-ITS services,
Understand how C-ITS infrastructure and service provision may be scaled to include all Day 1 and Day 1+ services,
Test, validate and evaluate the impact of the piloted C-ITS services to understand how this may impact the network and operations and when scaled to higher levels of penetration,
Evaluate the impact of C-ITS from a technological, safety, efficiency and compliance perspective and using established guidance from the C-Roads Working Groups, wider European guidance and agreed national approaches,
Develop an understanding of the opportunities and limitations of system interoperability, and network operations considering the policy, regulations and standards requirements for C-ITS
To enable Ireland's road operators and industry partners to improve their knowledge of future disruptive technologies, and provide a meaningful contribution to the EU knowledge management group/s
To support and drive industry involvement which will accelerate C-ITS service development and deployment and support the development of a hybrid network which is fit for the future, and
Deliver test and evaluation data and information that can be used to develop a business case for permanent and wider deployment and inform the operating model for C-ITS Services. This data would be considered with the evaluation of data from other C-Roads trials.
Location Description
The route of the C-ITS pilot will have 5 sections:
Section 1 runs from the border with Northern Ireland, to Drogheda
Section 2 starts at Drogheda and includes the M1 to the M50 and includes the M50 until the M50 joins the M7
Section 3 includes the M7 and M8 to Cork
Section 4 will test some of the urban services within Dublin
Section 5 includes the M7 towards Limerick and the M18
Beneficials
Transport Infrastructure Ireland will be the Implementing Body.
Schedule
2019/20 – Planning, procurement and development of systems/solutions
2020/22 – Pilot deployment, operations and trials
2022/23 – Pilot evaluation and assessments, including planning for wider deployment
Map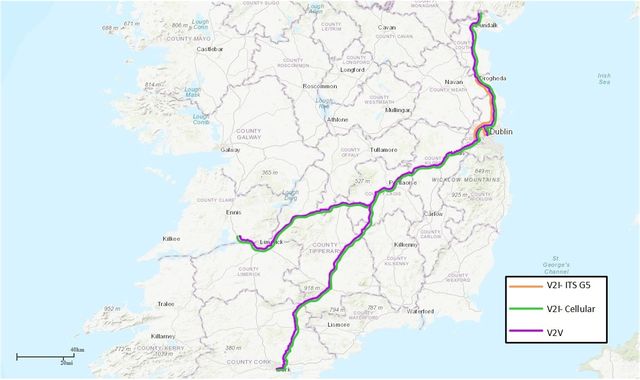 back
Share this article under the hashtag #cRoadsPlatform