C-Roads Slovenia

Description
The pilot in Slovenia will test a hybrid solution, in particular, C-ITS-G5 infrastructure and 3G/4G/LTE Cellular that will interact with Cloud Information Services to deliver afterwards mentioned C-ITS Day 1.0 services. "Infrastructure to vehicle" (I2V) as well as "Vehicle to infrastructure" (V2I) communication will be tested.
C-Roads Slovenia will pilot at least the following C-ITS Day 1.0 services:
Traffic jam ahead warning
Hazardous location notification
Road works warning
Weather conditions
In-vehicle signage
In-vehicle speed limits
Probe vehicle data
The delivery of real time traffic information through an existing upgraded mobile app will be tested (location and driving direction aware app upgrade).
The data received from the vehicles and the ITS roadside equipment will be carefully analysed and processed to produce optimal solutions for new C-ITS services in active cooperation with the C-Roads Platform Cooperation and other C-ITS stakeholders to re-solve outstanding issues and to ensure interoperability.
In order to test the above C-ITS Day 1.0 services with different solutions, the ITS infrastructure will be upgraded on the network as well as data integrated into the regional traffic management centre.
Location Description
The Slovenian Pilot will take place at the TEN-T core network and covers 100 km in length. It will be located on the A1 highway (section Ljubljana – Koper), A3 (section Divača - Sežana) and H4 (section Razdrto – Vipava).
Implementing Bodies
The implementing body of Slovenia is DARS d.d. (Motorway Company in the Republic of Slovenia). A setup National Action Project Management will ensure that the milestones of the pilot implementation are met as well as the deadlines and targets of the European Services.
Schedule
The schedule starts from the availability of an agreed EU C-ITS security solution ready for implementation and validation in 2016.
From 2017 on, an upgrade of ITS infrastructure will happen including the installation of necessary Roadside Units which are connected to the central C-ITS-station with live traffic data feeds from the DARS Traffic Management Centre. Connected cars and Cloud information services will go on parallel.
In 2019 the pilot site will become operational and cross-site tests will be carried out on pilot locations.
Key Performance Indicators
The Slovenian C-Roads-Pilot consists of seven project phases, for which also performance indicators are defined.
Upgrade of the ITS Infrastructure
ITS Infrastructure Integration for Real Time Services
Availability of Traffic Information Service in Real Time
C-ITS Cellular Connected Car and Cloud Information Services
C-ITS-G5 Roadside Infrastructure
Location-aware Mobile Application for End Users
C-Roads Pilot Slovenia Assessment and Evaluation
Map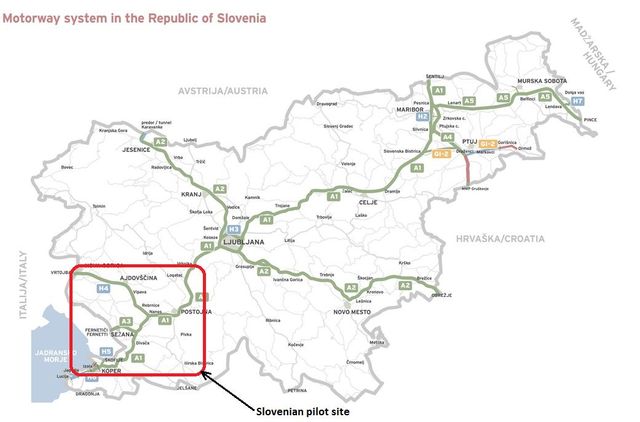 Slovenian Pilot Site
back
Share this article under the hashtag #cRoadsPlatform