C-Roads and ASECAP sign Memorandum of Understanding
At the 11th ASECAP Road Safety Conference, which took place on 20th of March in Brussels, the efforts of C-Roads for coordination have taken another step forward with a new Memorandum of Understanding that has been signed by ASECAP and the C-Roads Platform. European harmonisation is of high priority for both institutions and they will bundle their strategic efforts in the future for creating and supporting seamless services for road users.
ASECAP and the C-Roads Platform have the common objective to harmonise as far as possible the deployment of ITS services for European travellers along the European road infrastructures. Hereby the C-Roads Platform concentrates its efforts on C-ITS services with the major aim to improve road safety while, in addition to this, ASECAP's major focus is on electronic tolling services.
They both have a reciprocal interest in avoiding disruption of services. As tolling services and short-range C-ITS services use for communication issues nearby frequency bands, an interference-free co-existence of both services is a precondition for end-user acceptance.
As a consequence, ASECAP and the C-Roads Platform have noted the necessity of strengthening their relationship and fostering a closer co-operation and to support their members in the deployment of C-ITS services.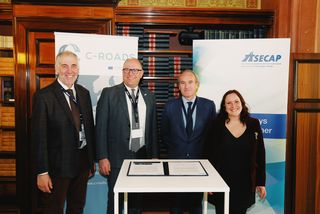 back
Share this article under the hashtag #cRoadsPlatform