C-Roads at the TESTFEST in Dordrecht
C-Roads took an important step toward deployment of C-ITS related services
The first TESTFEST, focusing on ITS G5 services (Wifi-p), was held in The Netherlands, co-organised by the InterCor project together with Dutch partners of the C-ITS Corridor. It took place on the motorway A16, near Dordrecht. The motorway is equipped with roadside units broadcasting safety relevant information related to road-works, allowing the on-board units installed in the participants' cars to alert the drivers of potentially hazardous traffic situations. The main objective of this event was to validate the international interoperability of ITS equipment from different countries and vendors with the aim of enhancing road safety in Europe.
Roadworks Warning (RWW), Probe Vehicle Data (PVD) and In-Vehicle Signage (IVS) services were sended out via fixed roadside units (RSUs) for testing in representative lab environment as well as for testing in real life traffic conditions.
Public and private organisations (public authorities, road operators, systems suppliers, services providers, vehicle manufacturers, etc.) actively took part in the TESTFEST. i.e. by bringing own on-board units (suitable for the services) and vehicles to test the interoperability with the RSUs in The Netherlands.
The validation was done by testing the interoperability of in-vehicle end-user devices and road side ITS stations from the four EU Member States.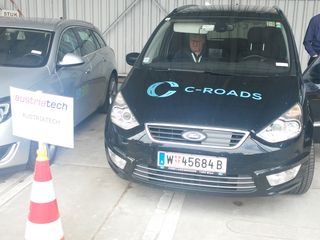 © AustriaTech
back
Share this article under the hashtag #cRoadsPlatform