C-Roads Platform launched: Kick-off-meeting in Brussels
The C-Roads Platform is in place to harmonise the deployment of C-ITS services all over Europe. As a clear sign of strong support, European Commissioner for Transport Violeta Bulc, together with INEA Director Dirk Beckers and representatives of the C-Roads pilots signed a special C-Roads poster to reinforce the commitment to supporting C-ITS deployments as one of the chief solutions to making the road transport sector safer, greener and more efficient
The C-Roads Platform partners agree to work together to achieve deployments that enable interoperable and seamless cross-border C-ITS services for European travellers. Hereby the general principles of the C-Roads Platform are agreed as follows:
The main goal is to link C-ITS pilot deployment projects in EU Member States,
to develop, share and publish common technical specifications (including the common communication profiles),
to verify interoperability through cross-site testing,
and to develop system tests based on the common communication profiles by focusing on hybrid communication mix, which is a combination of ETSI ITS-G5 and operational cellular networks.
The C-Roads Platform includes as a starting point members from eight countries (Austria, Belgium / Flanders, Czech Republic, Germany, France, The Netherlands, Slovenia and UK), with an invitation for other countries to join.
Eric Ollinger from France was elected unanimously to chair the Steering Group of the C-Roads Platform.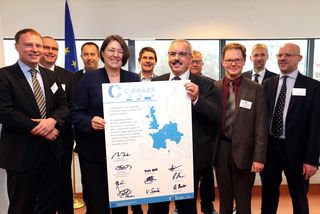 © European Commission
back
Share this article under the hashtag #cRoadsPlatform