C-Roads Platform position paper on 5.9 GHz band
With this position paper, Member States, road authorities, and road operators contributing to the C-Roads platform emphasize:
Interoperability is a must: It is unacceptable that people would die on European roads because vehicles cannot "speak" to each other or implemented roadside units due to non-interoperable communication systems (e.g. non-interoperability of ITS-G5 and LTE-V2X).
Road authorities should not be forced to equip the roadside with two or more competing technologies (ITS-G5, LTE-V2X, or potential future technologies) serving the same use cases or providing the same content to road users.
Furthermore, C-Roads Member States are committed to the "backwards compatibility" criteria in the technological evolution: New C-ITS equipment beyond Day-1 needs to support and safeguard already deployed C-ITS services.
Additionally, the evolution of cellular communication standards towards 5G is expected to bring further improvements to long range cellular communication (e.g. coverage improvements and signalling efficiency), providing benefits to the hybrid communication approach and complementing short range connectivity.
And road authorities need to have the choice how to provide connectivity via a hybrid communication approach, including all suitable communication networks to vehicles also in the future.
The position paper can be downloaded here.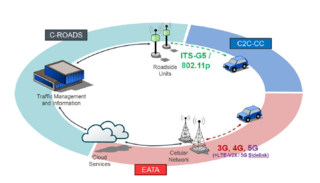 back
Share this article under the hashtag #cRoadsPlatform