C-Roads publishes harmonised C-ITS specifications
On 14th of September, the first release of the harmonised communication profile for Cooperative Intelligent Transport (C-ITS) services has been published. This release is based on the respective ETSI and CEN standards. It comprises the results of several test cycles of the C-Roads partners across Europe and is already fine-tuned with the automotive industry. While C-Roads is focusing on a hybrid communication approach, which is a combination of existing short range and cellular communication technologies, the first release focusses on the communication profile for IEEE 802.11p/ETSI ITS-G5 short range communication.
Based on the cooperation with the CAR 2 CAR Communication Consortium, the first release focuses on I2V (Infrastructure-to-Vehicle) communication, providing high level Day-1 Services are profiled in the first release in line with the EC Phase 1 C-ITS Deployment Platform report:
· RWW – Road Works Warning
· IVS – In Vehicle Signage
· OHLN – Other Hazardous Location Notifications
· GLOSA – Green Light Optimal Speed Advisory.
The published specifications form the basis for the roll-out of infrastructure-driven C-ITS services all across Europe and will be extended in the coming months. First ITS-G5 implementations are already operational in several C-Roads Platform Member States and will be updated accordingly in course of the C-Roads implementation initiative.
The harmonised communication profile for C-ITS services is publicly available and can be requested via https://www.c-roads.eu/platform/get-in-touch.html
For more information please contact:
Martin Böhm
Secretary General
martin.boehm(at)austriatech.at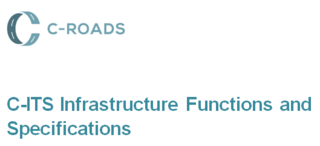 back
Share this article under the hashtag #cRoadsPlatform