C-Roads showing face in Copenhagen
Despite being in the last block of sessions, the C-Roads special interest session "C-ITS Deployment becoming reality in Europe by 2019" was fully packed with interested visitors from various fields. This session focussed on the current deployment activities undertaken all across Europe and how single European countries are prepared for C-ITS service provision by 2019. Harmonisation is the core asset of the C-Roads Platform Member States, thus ensuring sustainable and efficient deployment of the C-ITS Day-1 services. The common vision was emphasised by all speakers and tangible achievements such as actual tendering and procurement were emphasised to ensure C-ITS service provision along European motorways by 2019.
Another session at the EC stand showed to the audience the elaboration of the C-Roads harmonised interface specifications and their usage all across the globe. Therefore representatives from C-Roads, the European Commission, the Car2Car Communication Consortium and others discussed the status of C-ITS deployments. A special feature was the participation of representatives from outside of Europe, namely Israel, Australia and New Zealand who are committed to follow the technical and strategic approach of C-Roads beyond Europe.
At the ITS Austria stand in the exhibition hall, the C-Roads VR demonstration introduced C-ITS Day-1 services to congress participants and visitors. Users were impressed by the direct experience of the benefits of applied C-ITS to comfort and road safety as well as by the "hover-over" perspective allowing see the information flow between traffic management centre, road side units and cars for each use case.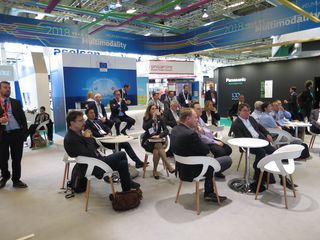 back
Share this article under the hashtag #cRoadsPlatform