Collaboration agreement between NAPCORE and C-Roads
Optimising mobility services through collaboration between NAPCORE and C-Roads
The C-Roads Platform has signed a collaboration agreement with NAPCORE, the National Access Point Coordination Organisation. The agreement, signed at the ITS European Congress 2023 in Lisbon, aims to unlock the full potential of Cooperative Intelligent Transport Systems (C-ITS) and National Access Points (NAPs) to support future mobility developments. This represents a major step forward in the advancement of mobility services.
The objective of this collaboration is to discuss and explore the role of C-ITS and NAPs in facilitating mobility services and driving advancements in the mobility domain. Therefore, a key focus of the partnership is to jointly work on developing processes and procedures to maximise the benefits by linking NAPs and C-ITS. As such, the collaboration aims to align and elevate the quality, usability and standardisation of data in order to guarantee improved functionalities both, for C-ITS services as well as for NAP data contents.
Both parties will collaborate for mutual benefits in a logical and structured way on the operational level. Forming a sustainable and long lasting cooperation, by identifying additional actions that go beyond the current scope of both platforms.
This collaboration represents a significant milestone in the pursuit of enhanced mobility and European connectivity. NAPCORE and C-Roads contribute to the creation of a sustainable, connected, and efficient mobility ecosystem that benefits all stakeholders.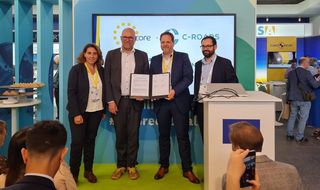 back
Share this article under the hashtag #cRoadsPlatform