Harmonised data exchange and cross test sessions in Europe for CCAM
The cooperation of C-Roads and the Car 2 Car Communication Consortium is bearing fruit: a common methodology to share data to validate C-ITS services across Europe has been defined and is published now.
With thousands of RSUs running and more than a million C-ITS equipped vehicles introduced to the market, the C-ITS network in Europe is live and growing steadily. C-ITS and CCAM developments continue to make progress and enhance road safety. Using the experience and best practice gained in the C-ITS service cross-border tests in 2021, and 2022 partners have defined a common methodology to share data to validate C-ITS services. Partners have agreed that C2C CC members share CAM* traces, DENM* and SREM* messages. Road infrastructure operators share DENM*, IVIM*, SPAT/MAP* and SSEM* messages all based on open standards and specifications. This methodology white paper is publicly available now and can be downloaded here.
This is an important first step that has been achieved and will be further developed towards future CCAM product roadmaps for vehicles and infrastructures in Europe. Based on these open standard data formats and messages, an even closer cooperation between public authorities and industry will be possible. Various purposes, such as road safety analysis, will benefit from this cooperation.
For further information please come back to
Mr. Martin Boehm or to Mr. Niels Peter Skov Andersen
* All these are abbreviations of standardised C-ITS message formats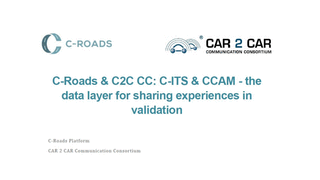 back
Share this article under the hashtag #cRoadsPlatform