Keeping it busy: C-Roads activities in June
C-Roads showed face at two important events in June in order to discuss and push C-ITS harmonisation in Europe.
The first was the final event of the European project "C-the Difference" which took place in Bordeaux from 5 to 6 June. On its first day, the City Twinning workshop gathered representatives from European cities as well as road authorities and operators. On the second day, the Urban Cooperative ITS Roundtable brought together cities, road operators, businesses and professional users. The presentations included lessons learnt, testimonies from cities and user experiences both from Helmond and Bordeaux pilot sites. The programme also encompassed live demonstrations of C-ITS use cases in the traffic of Bordeaux. This was a great opportunity for three leading European C-ITS initiatives supported by the European Commission (urban C-ITS pilots in "C-The Difference" and "C-MobILE" projects, together with the C-Roads Platform for harmonised European deployment) to strengthen commitment and to gain momentum toward large scale deployment in Europe.
Furthermore, C-Roads participated in an ITU - Regional seminar for CIS and Europe on the topic of "Development of Modern Radiocommunication Ecosystems" which took place from 6 to 8 June in St. Petersburg, Russian Federation. This was a very welcome opportunity to present the objectives and details of the C-Roads Platform to a new and broad audience. A special focus was on the collaboration with the CAR 2 CAR Communication Consortium as well as on the content of release 1.1 of the C-Roads communication profile that was published in April 2018. In this way, the C-Roads Platform displayed the further roadmap of specifications and implementations of harmonised C-ITS implementation on European Roads.
And if you ever wanted to know how C-Roads looks like in Cyrillic, check out the presentation given at the ITU Regional seminar.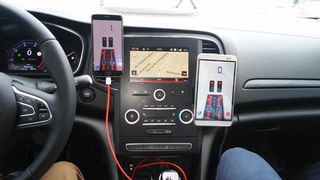 back
Share this article under the hashtag #cRoadsPlatform