Press Release: Final Results of C-Roads Greece
The final results on the C-Roads project in Greece have been released!
The C-Roads Greece project, launched in June 2019 under the coordination of the Ministry of Infrastructure and Transport and with a Consortium of 10 partners, delivers a set of modern technologies and systems that were tested in sections of two pilot sites along Egnatia Odos Tollway and Αttika Tollway. Fully aligned with the EU strategy for C-ITS and the corresponding national pilot tests in 18 Member States through the central C-Roads Platform, C-Roads Greece has thoroughly studied the wide and harmonious implementation of these services in Greece, yielding important results.

Read the full press release here.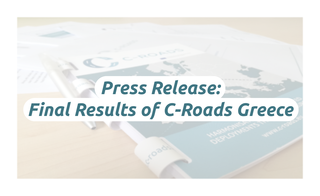 back
Share this article under the hashtag #cRoadsPlatform