Smart Public Transport – Installation of C-ITS technology in Czech cities Pilsen and Ostrava
C-Roads projects do not target only smart motorways. Road traffic data exchange between vehicles and road infrastructure involve also public transport. The cities of Ostrava and Pilsen are among the first "smart" European cities where Cooperative Intelligent Transport Systems (C-ITS) are implemented within the fourth stage of C-Roads Czech Republic project.
During December 2018, five C-ITS roadside units on parts of the Ostrava tram lines were installed and one C-ITS roadside unit was installed at the intersection in Pilsen city. The fourth phase of C-Roads Czech Republic focuses on implementation and testing of C-ITS technology for usage in public transport (PT) and verification of transmitting and receiving C-ITS messages in urban environment. Within the testing of C-ITS services, car drivers will be warned about the possible collision risk with an approaching PT vehicle (e.g. where the car is turning left and, while doing so, crosses a parallel tram track and/or dedicated bus lane). Car drivers will be also warned that they must give way to passengers getting on and off the tram at a stop where there is no dedicated platform. However, attention will be paid also to public transport vehicles preference at intersections.
Based on experience gained from daily traffic situations, representatives of PT companies identified dangerous locations where deployment of C-ITS technology could bring significant road safety improvements not only for PT passengers but also for all road users. The first location for C-ITS roadside unit deployments is the well-known tram line nr. 5 where the tram line crosses a road with high-density traffic. Another location in Ostrava represents the double-track tram crossing located in the Podzamci Street. This tramway crossing is only marked with the "Saint Andrews Cross" warning sign without level crossing lights, barriers nor bells. The last location in Ostrava is the roundabout of Horni x Martinkova streets where tram track crosses a road on three spots.
Slovanska Street in Pilsen was selected for testing purposes due to the fact that tram tracks are placed on the right side of the street, as opposed to the standard tramway track position in the Czech Republic which is normally designed in the middle of the street. This different track position, in combination with the lack of drivers' attention, is very often the cause of traffic accidents involving trams and cars. This issue represents a big challenge for deploying C-ITS systems. In Pilsen, C-ITS roadside unit was installed at the Slovanska x Strnadova intersection. Another planned location for C-ITS roadside unit installation is Slovanska x Sladkovskeho intersection where the unit will be connected with traffic lights controller and thus PT vehicles preference could be tested there together with providing traffic lights status information via C-ITS messages.
The project coordinator of C-Roads Czech Republic is the Ministry of Transport of the Czech Republic and INTENS Corporation is the responsible project partner for realization of this project phase. During the realization, INTENS Corporation is closely supported by Plzeň Public Transport Company and Ostrava Public Transport Company.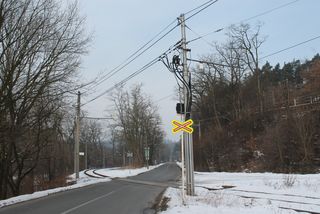 back
Share this article under the hashtag #cRoadsPlatform