Registration is open!
Celebrating Innovation and Progress: Join the Urban C-ITS Contest!

The C-Roads Platform invites European cities to highlight the status of their C-ITS (Cooperative Intelligent Transport Systems) deployments and participate in the Urban C-ITS Contest. By analysing and understanding the C-ITS situation across cities, this contest aims to foster progress and promote collaboration.
From May 2nd to July 17th, you have the opportunity to submit your C-ITS deployment description and share your city's success stories. Throughout the application process support and guidance will be provided.
The winning cities will be awarded in 10 different categories at the "Urban C-ITS Award Ceremony" scheduled for October 20th, 2023, in the city of Porto, Portugal. The award ceremony will give city representatives the opportunity to present their C-ITS implementations and will serve as a platform for comprehensive discussions on the progress of urban C-ITS systems across the European Union.
To ensure a seamless process, all the necessary documentation and information are available for download under Downloads. Make sure to carefully review the "Rules of Engagement" document, which outlines the submission and evaluation procedures, instructions, deadlines, and other essential details.
Register now until July 17th using this link to secure your place in this event. The Urban C-ITS Contest is your chance to connect with stakeholders, showcase your city's achievements, and contribute to the advancement of urban C-ITS across Europe. For any inquiries or further information, please don't hesitate to contact:
• João Montenegro: joao.montenegro(at)armis.pt
• Lígia Conceição: ligia.conceicao(at)armis.pt
Join us on this journey and let your city shine on the European stage!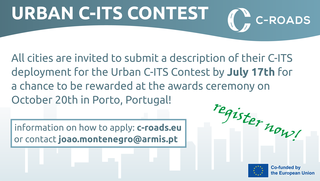 back
Share this article under the hashtag #cRoadsPlatform